Message from the President
TATSUTA, an organization characterized by its unique research and development efforts, will open the new frontiers of electric wires and electronic materials. We aim to become a top supplier providing highly advanced, unique and niche products.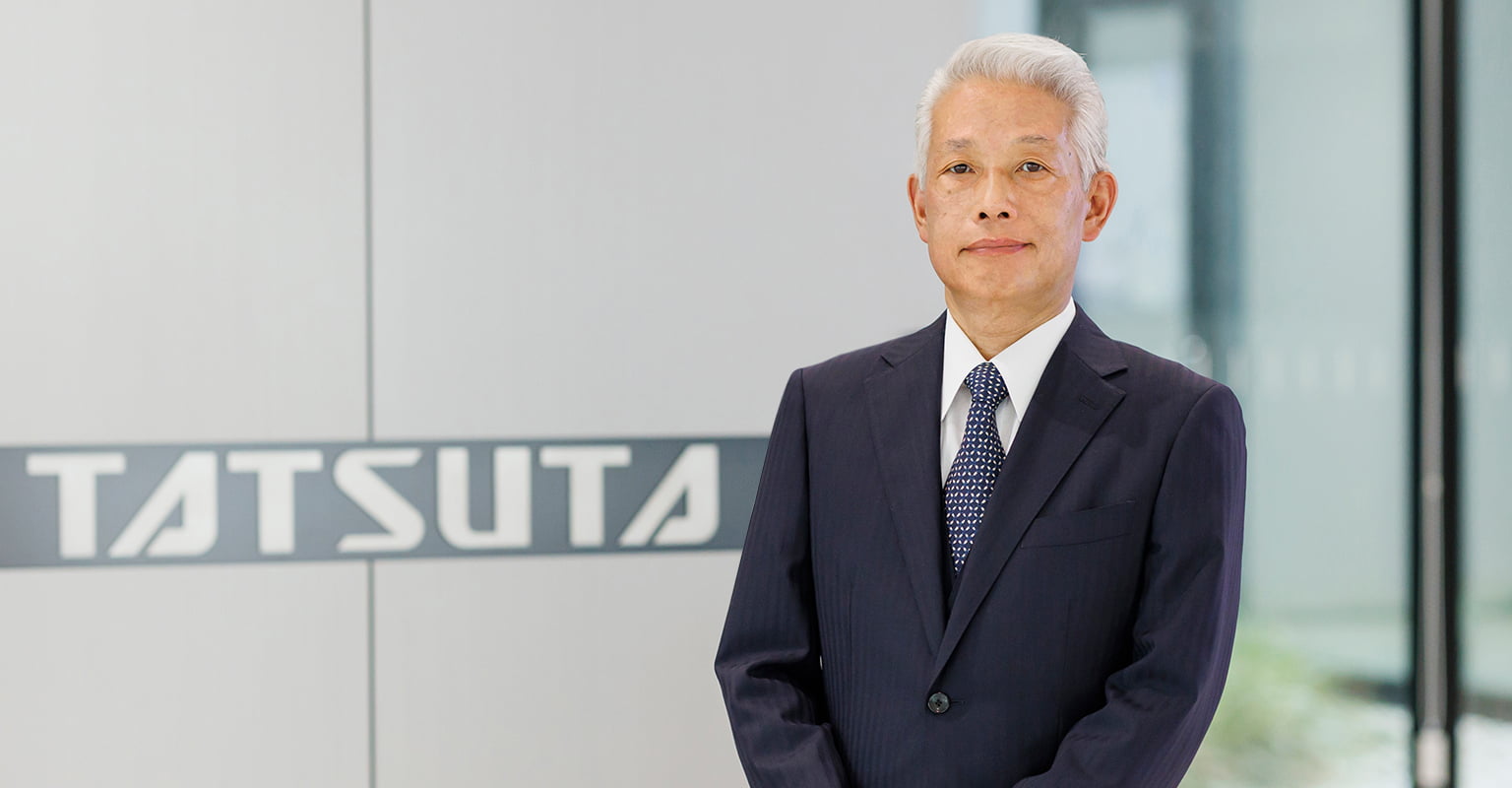 President
Hirohito Miyashita
Development of advanced technologies and products that prioritize customer needs
The TATSUTA Group based on its core businesses of telecommunications cables and functional films, which support social infrastructure and the evolution of mobile electronics, respectively, is engaged in a wide range of businesses, including those for equipment electric wires, bonding wires, and environmental analysis, by exploiting its accumulated elemental technologies. The Group is also actively working on the development of products and businesses that will lead the next generation.
TATSUTA's founding philosophy is to provide products that are useful for society and contribute to its sustainable development. This culture that prioritizes social and customer needs has been oriented toward cutting-edge technology and product development and passed down as our DNA over generations.
Newly launched businesses that will lead the next generation of information, telecommunications and medical care
To further enhance our corporate value, in 2017, the 70th anniversary of our founding, we formulated our 2025 Long-Term Vision. We aim to become a top supplier that provides highly advanced, unique and niche components and materials by opening the new frontiers of electric wires and electronic materials, in particular those used for IoT and robots, in-vehicle devices, and medical devices, in which customer needs are expanding with the diversification and sophistication of products.
Toward this end, we have newly established the Advanced Paste Division and the Sensor & Medical Division, by designating the businesses of paste, medical device parts and materials as our strategic growth areas. In cooperation with our customers, we aim to create new business models and open up new markets by providing total solutions with proposal and development including manufacturing processes.
To become a global top supplier in advanced and niche fields, we will further try to increase the added value unique to our company, such as a wide range of technologies that produce conductors and insulators, product development that closely follows customer needs, and a production system that supports high-mix low-volume manufacturing, thereby winning acceptance and building mutual trust with our customers.
Contribution to a sustainable society
It is obvious today that the global community must jointly pursue the sustainable development goals (SDGs). Business activity that has the least impact on the environment should be the aim of our management. In addition to developing eco-friendly products, we engage in environmental activities on a daily basis to achieve our goals such as energy saving and zero emissions. While creating a culture that respects the diverse values and working styles of our employees, we maintain a system that ensures the soundness and transparency of management in terms of governance.
Proudly maintaining the philosophy, "the TATSUTA Group contributes to a sustainable society," each of us is dedicated to his/her job. Such culture should lead to the interests and growth of not only our company, but also all stakeholders including our customers. The TATSUTA Group aspires to be such a corporate group.