Total sales in FY2022 and the sales by segment
Sales

61

.

4

billion yen

As of March 31, 2023
Electric wire and cable business segment

44.0billion yen

Infrastructure Wire
Industrial Equipment Wire

Electronic materials business segment

15.0billion yen

Functional films
Functional paste
Bonding wires

Other business segment

2.4billion yen

Sensors
Medical device materials
Environmental analysis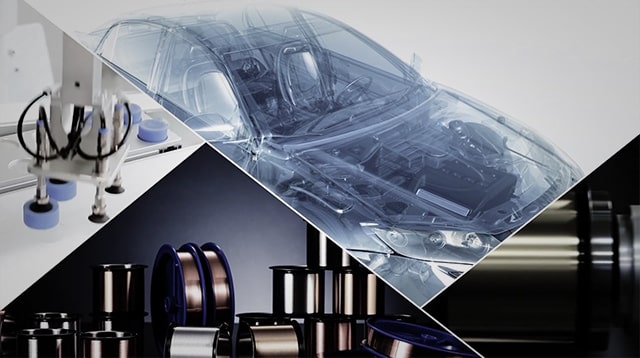 Utilizing the core technologies cultivated in electric wire manufacturing, we developed conductive pastes as electronic materials. Later, we developed the world's first EMI shielding film, which is indispensable for mobile devices such as smartphones, and won an overwhelming global market share with this product.
Today, we are applying our core technologies to various fields to enter the businesses of semiconductors, medical devices and sensors. We will continue to grow as one of the deep tech companies.
Electric wire and cable business We provide a wide range of wires and cables including power cables used in buildings and houses, cables for robots, and industrial cables used in railways and plants.

Electronic material business We supply functional films commonly used in mobile devices, and functional pastes with increasing demand among the semiconductor industry.

Other businesses We are also involved in the manufacture and sales of water leakage sensors, medical tubes, and optical components as well as providing environmental analysis services.
You can discover the TATSUTA products in numerous industrial fields, this is our strength.
The TATSUTA Group

2025 Long-term Vision

TATSUTA will open the new frontiers of electric wires and electronic materials to become
a top supplier providing highly advanced, unique and niche components and materials.
Business Development

For-profit businesses

Infrastructure Wire Business

Electric wire and cable business
Domestic equipment wire and cable business

Electronic materials business

Functional films business
Bonding wire business

Other businesses

Sensor business
Environmental analysis business

Promote investment to help enhance efficiency and enhance product groups that meet customer needs to pursue the optimization of profit earning

For-growth businesses

Electronic materials business

Functional paste business

Other businesses

Medical equipment materials business

Actively implement investment in business development, production increases, etc. to pursue greater scale and expand revenue.

Mid-to-long-term development businesses

Electric wire and cable business

Overseas equipment wire and cable business

Focus on establishing the business foundation at present, and pursue greater scale and expanded revenue in the future.
FY2025 target

We aim for sales of 100 billion yen and operating profit of 10 billion yen while maintaining a high earnings ratio.

Sales

100

billion yen

Operating profit

10

billion yen