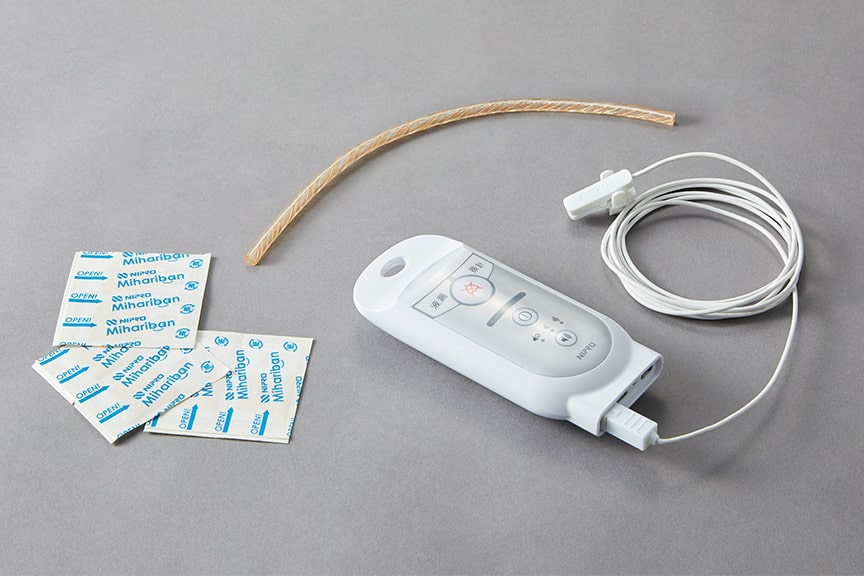 Six basic technologies derived from the technology developed over the years in electric wire and cable.
TATSUTA brings new value to the medical field through the combination of these different technologies. As we face the super-aging of our society, the medical field is taking on a host of issues that include strict cost conditions due to medical cost reductions and the improvement of efficiency in caregiving work. Through a combination of basic technologies in thinner film material, compounding, wire drawing, alloying, fiber optics, and liquid detection, which have been developed over the years at TATSUTA in electric wire and cable, TATSUTA is able to bring products that seem so obvious, yet were never before developed to customers in the medical field.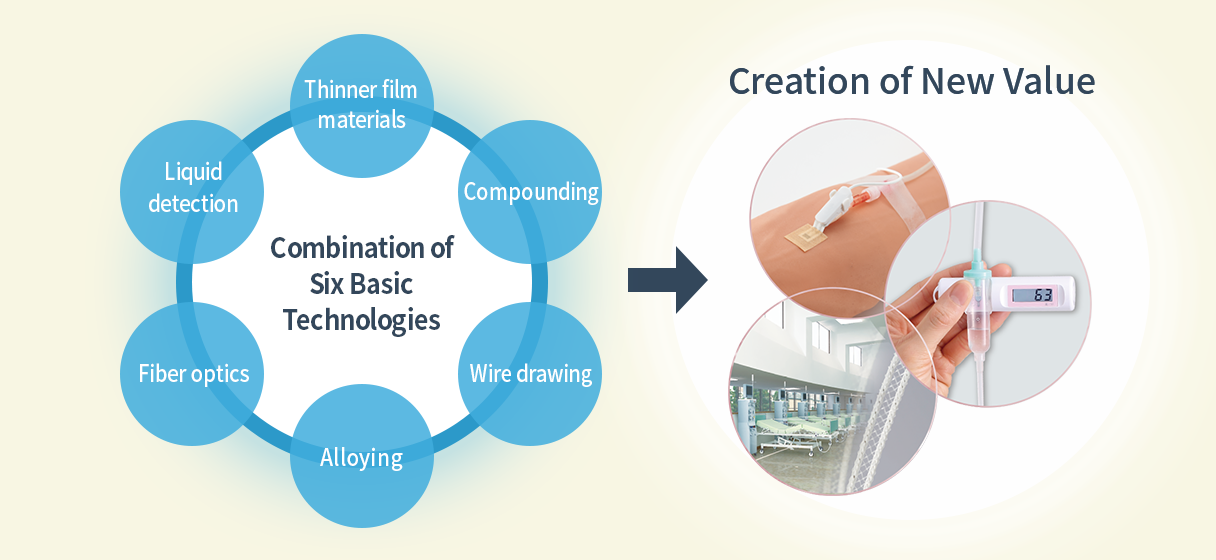 As an OEM supplier, we are able to provide high quality mass produced products
TATSUTA Electric Wire and Cable has entered the medical field.
To meet actual requests, TATSUTA has built an integrated approach, from the development of raw material to the manufacture of our products, receiving high acclaim for the many different products created through this approach.
We hope that you will not hesitate to name TATSUTA Electric Wire and Cable as one of your partners. With our excellent technical capabilities, we are confident that we can meet your expectations.
An integrated approach from the development of our own raw materials to commercialization of the product
TATSUTA has entered a wide range of fields based on our core electric wire and cable technology, with a fully integrated approach from not just the development of raw materials and products, but also up to the marketing and delivery of a product.
Research and development(R&D)

Commercialization
TATSUTA Technical Center

As a facility carrying TATSUTA Electric Wire and Cable into the next generation, the TATSUTA Technical Center features the latest in research and development facilities. The Center develops new materials as well as the groundbreaking new products that use these materials.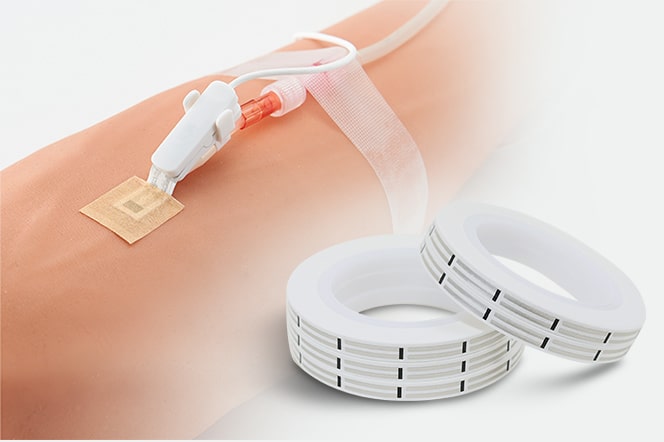 Improving peace of mind and safety during dialysis treatment
A major problem during dialysis treatment is blood leakage occurring when the needle slips out. If an adhesive plaster implanted with a sensor is attached to top of the intravenous (IV) needle, a blood leak can be detected immediately.
Three original TATSUTA technologies residing in a single medical product
Conductive film technology

Conductive film technology TATSUTA was the first in the world to succeed in making film from conductive paste and this product is now used in smart phones. This same TATSUTA technology is also being used to play an important role in the development of medical sensors.

Conductive paste technology

Conductive paste technology Plastic or adhesives that conduct electricity are known as conductive paste. This paste and printing technology developed over the years has been applied to liquid leakage and temperature sensors. Printing is also possible on raw materials such as film and nonwoven fabric.

Sensor technology

Sensor technology In addition to sensing and detection, there is also new focus on the additional process of alarm activation. The ability to provide original TATSUTA solutions for all three of these processes is one of our strengths and includes such applications as dialysis room water leakage sensors.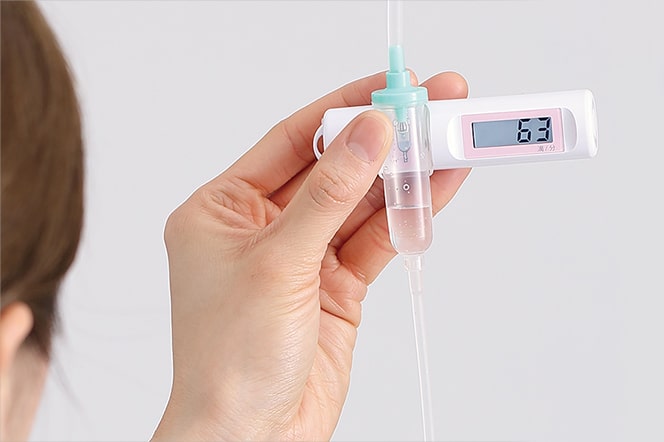 Applying sensor technology to automatically and accurately count IV drops per minute
With a simple set of the IV tube, the drops administered per minute are automatically counted and displayed. Adjustment of the drip count can be easily carried out and the backlight allows easy checking at night. Because it is rechargeable, changing the batteries is not necessary.
1. Set the IV tube Equipped with a backlight, screen is easily visible

2. Drip adjustment Adjust infusion solution speed while observing the drip count
Liquid control system for artificial dialysis equipment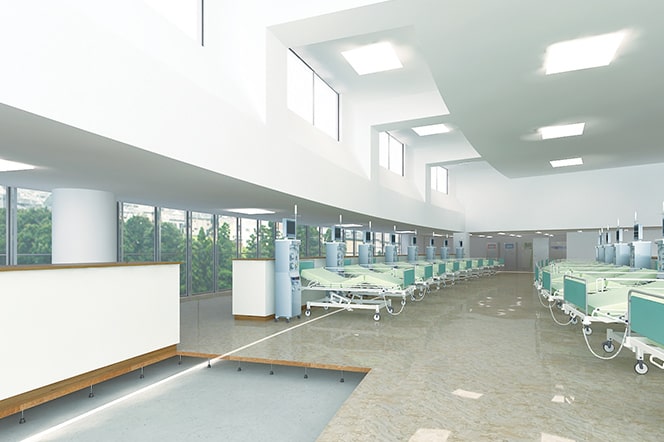 Liquid leakage during artificial dialysis immediately detected and alarm activated
Artificial dialysis equipment carries with it the threat of a major accident in the form of liquid leakage. Taking advantage of our many years of experience in water leakage detection systems, TATSUTA's system ensures detection of even minute amounts of leakage and activates an alarm.
Water leakage detection device

Water leakage sensor
Optical fiber interference tomography meter for OCT applications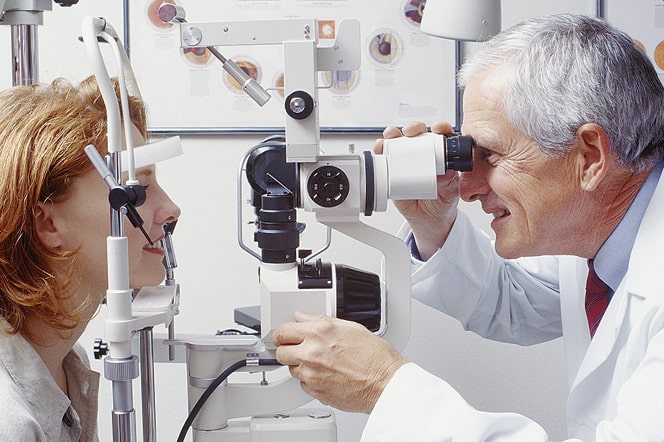 New diagnostic technology
OCT (Optical Coherence Tomography) is a technology that brought about great strides in ophthalmological diagnostics. Now it is also being studied for applications in such areas as cardiology and dermatology. This compact, yet highly precise device helps provide highly precise tomographic imaging.
Optical Fiber Interferometer Module for OCT

Visible band light source module
Electric Wire for Medical Applications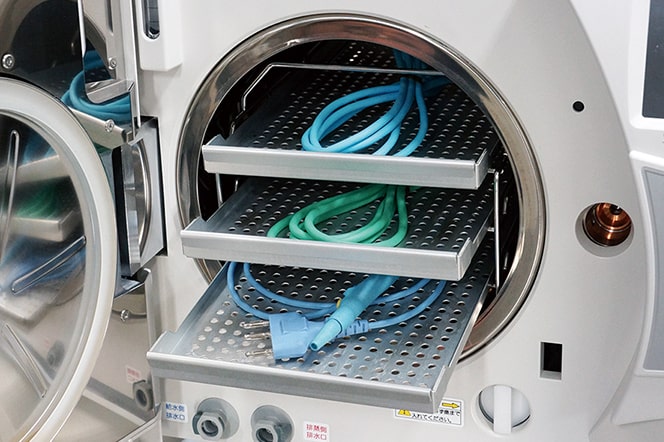 Development of tough conductors and application of free resin molding technology
TATSUTA offers a lineup of cable products designed to meet the needs of medical facilities based on a combination of our conductor manufacturing, special braiding, resin compounding and molding, and terminal processing technology.
Are the following items issues for you?
Electrical wires that break
How to prevent medical errors
Electrical wires/cables too thick or heavy
Keeping medical equipment hygienic
Electrical wires that are difficult to bend
Finding ways to improve medical worker efficiency
Frequent electric shorts and bothersome maintenance
How to implement countermeasures for electromagnetic noise
Need for optoelectric composite cables
Products Born of the Needs of Our Customers
Lightweight EMC protection cables

Lightweight EMC protection cables Electric cables are an integral part of EMC protection. TATSUTA has developed a cable that is highly resistant to low and high frequency electrical noise.

Sterile / Antimicrobial cables

Sterile / Antimicrobial cables Cables are indispensable in preventing infection at medical facilities. TATSUTA provides electrical cables compatible with the customer's usage conditions.

Electrode cables

Electrode cables Cables conformed to fit conditions of use such as chemical resistance and skin contact. This includes chemical resistant sheathed cable and tape type electrical wires which come in contact with skin.
ISO13485 and 3rd Class Medical Device Manufacturing and Marketing Authorization Holder Certification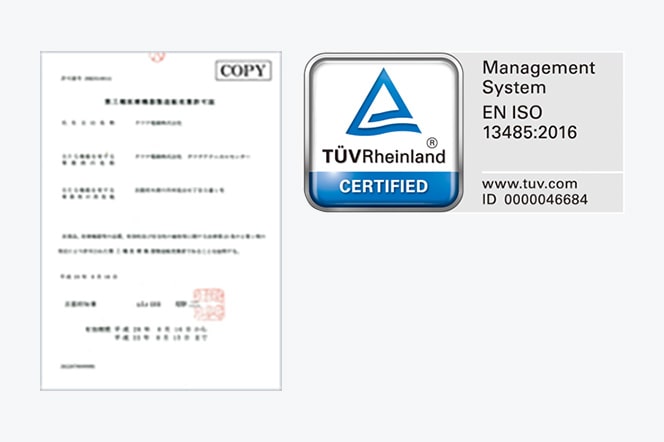 For the purpose of manufacturing and supplying safe medical equipment, TATSUTA acquired the ISO13485 certification "Medical devices — Quality management systems — Requirements for regulatory purposes" on October 12, 2015. After this, TATSUTA also acquired registration as a 3rd Class Medical Device Manufacturing and Marketing Authorization Holder in August of 2016. Registration in the medical equipment manufacturing field is complete for the Kyoto Works and the TATSUTA Technical Center. TATSUTA will utilize these quality management systems to deliver high quality products to the customer that are reliable and safe.
| | |
| --- | --- |
| Registered company | TATSUTA Electric Wire and Cable |
| Related business sites | TATSUTA Technical Center, Kyoto Works |
| Scope of registered activity | Design, development, and manufacture of dialysis and infusion solution needle monitoring sensors |
| Registration number | SX 60130685 0001 |
| Applicable standards | EN ISO 13485:2016 |
| Date of registration | October 12, 2015 |
| Certifying agency | TUV Rheinland |
For inquiries about products