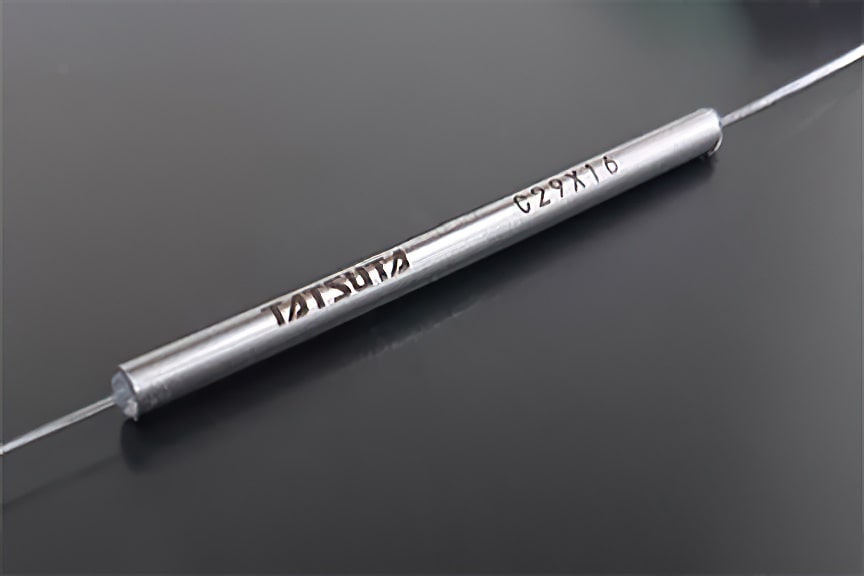 We propose the optimal optical fiber coupler and guarantee the performance and quality of wavelength characteristics with our laboratory. Optical fiber couplers are the most typical optical fiber components used for splitting/combining or multiplexing/demultiplexing optical signals. We manufacture and sell fused fiber couplers by heating and melting two optical fibers and fusing and tapering them.
The largest market for fiber optic couplers is fiber optic communications applications. Across the wavelength bands used in optical fiber communications, couplers for 1300-nm band and 1550-nm band are produced and sold by many manufacturers and available at very low prices. However, there are variations in quality, so you must take care in selecting a manufacturer.
We propose and provide the most suitable optical fiber coupler for your application. On the other hand, for applications other than optical communications, light in a different wavelength band is used. For example, Optical Coherence Tomography (OCT), an indispensable diagnostic device for ophthalmic diagnosis today, uses the 800-nm band and 1050-nm band, while fluorescence observation in the biotechnology and medical fields uses visible light. Optical fiber couplers in these non-communications bands are still not widely available, because of, not only the technical difficulties in manufacturing, but also the need for light sources and measuring instruments such as optical spectrum analyzers that are required in manufacturing and inspection. Ahead of competitors, we have focused on the development of optical fiber couplers in the non-communications bands. We have been already equipped with light sources of various wavelength bands such as LD, SLD, ASE, and SC light sources to address a wide range of wavelengths from 405 to 2200 nm. In non-communications bands, on the other hand, depending on the wavelength band and application, minor issues in communications applications may unexpectedly cause larger problems. Our strength lies in our track record and knowledge of solving such problems.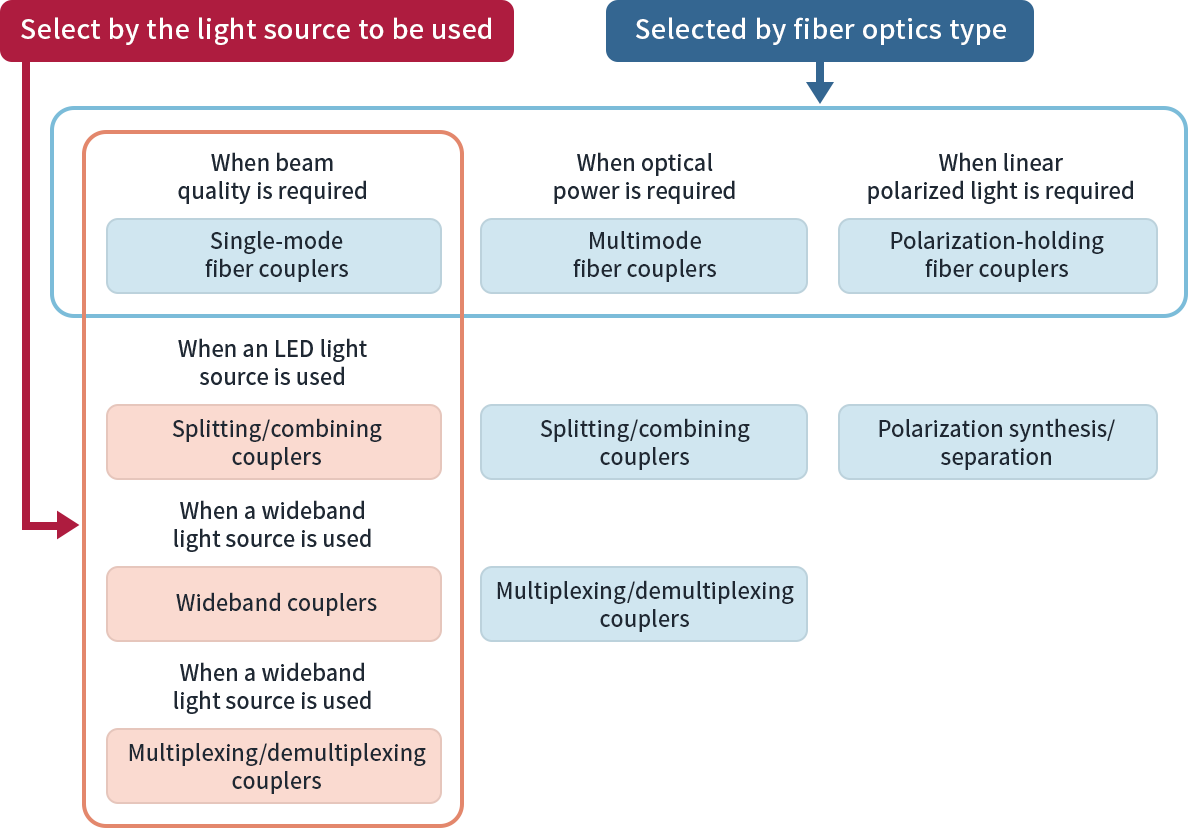 Various types of fiber optic couplers are available. You need to select an appropriate optical fiber coupler according to your requirements. Otherwise, you may not achieve a desired result or face high costs due to excessive specifications.
Splitting/combining couplers (single-mode fiber couplers)
Single-mode fiber couplers are the most common optical fiber couplers used for splitting and combining optical signals. By controlling the length and diameter of the fusion zone where energy transfer occurs between two optical fibers, we can manufacture a coupler with an arbitrary coupling ratio.
With its wavelength dependency on the coupling ratio, single-mode fiber couplers are suitable for a system using a narrowband light source such as LD. For a system using a wideband light source such as SLD or ASE, wideband couplers that suppress the wavelength dependency on the coupling ratio to a small extent are recommended to prevent deterioration of the spectral characteristics of the light source.
Wideband couplers, or Wavelength Flatted Couplers (WFCs), are characterized by their small wavelength dependency on the coupling ratio. Our WFCs have extremely high wavelength flatness and are widely used in Optical Coherence Tomography (OCT) applications.
In selecting a wideband coupler, you should not make the operating wavelength wider than necessary. The wider the operating wavelength, the lower the wavelength flatness, which may result in greater wavelength dependency in the actual wavelength range that is used. We recommend you check the specifications of the light source that you are using before selecting the optimal coupler. If you have any problems in selecting a coupler, please feel free to contact us. We are happy to help you select the optimal coupler.
Standard product example

The following chart shows the coupler performance at 1050nm with a coupling ratio of 50:50. The flatness of the coupling ratio is maintained from the center to the wideband wavelengths.
We can propose and select a coupling ratio tolerance rank according to your application.

Custom-made product example

You can specify the center wavelength, wavelength band, coupling ratio, and grade.

| Rank | Tolerance |
| --- | --- |
| regular | ±5% |
| special | ±3.5% |
| premium | ±2% |
Wavelength Division Multiplexing (WDM) couplers are used to multiplex and demultiplex optical signals of different wavelengths. In communications applications, WDM couplers are widely used for multiplexing/demultiplexing of signal light (signal) and exciting light (pump) in optical amplifiers.
In addition to optical amplifier applications, we have commercialized dual- and triple-wavelength-band WDM couplers covering visible (VIS) band used for fluorescence analysis of laser microscopes, and infrared (IR) band used for gas measurement, ahead of competitors.
Due to the difficulty of visually identifying the irradiation point of the light source, measuring instruments and laser machines that use near-infrared (NIR) wavelengths may use a red or green visible (VIS) laser as a guide light. We also offer dual-wavelength-band WDM couplers covering near-infrared (NIR) and visible (VIS) wavelengths to multiplex a signal light and guide light.
In general, it is difficult to manufacturer a WDM coupler when you use two close wavelengths. The difficulty of manufacturing depends on the wavelength band and the wavelength interval between the two wavelengths to be multiplexed. We are ready to respond to your inquiries for custom-made specifications.
Standard product example

The following chart shows the performance of a WDM coupler at 1050 nm/550 nm and 1300 nm/660 nm.
The coupler shows good performance over a wide wavelength range, showing its versatility.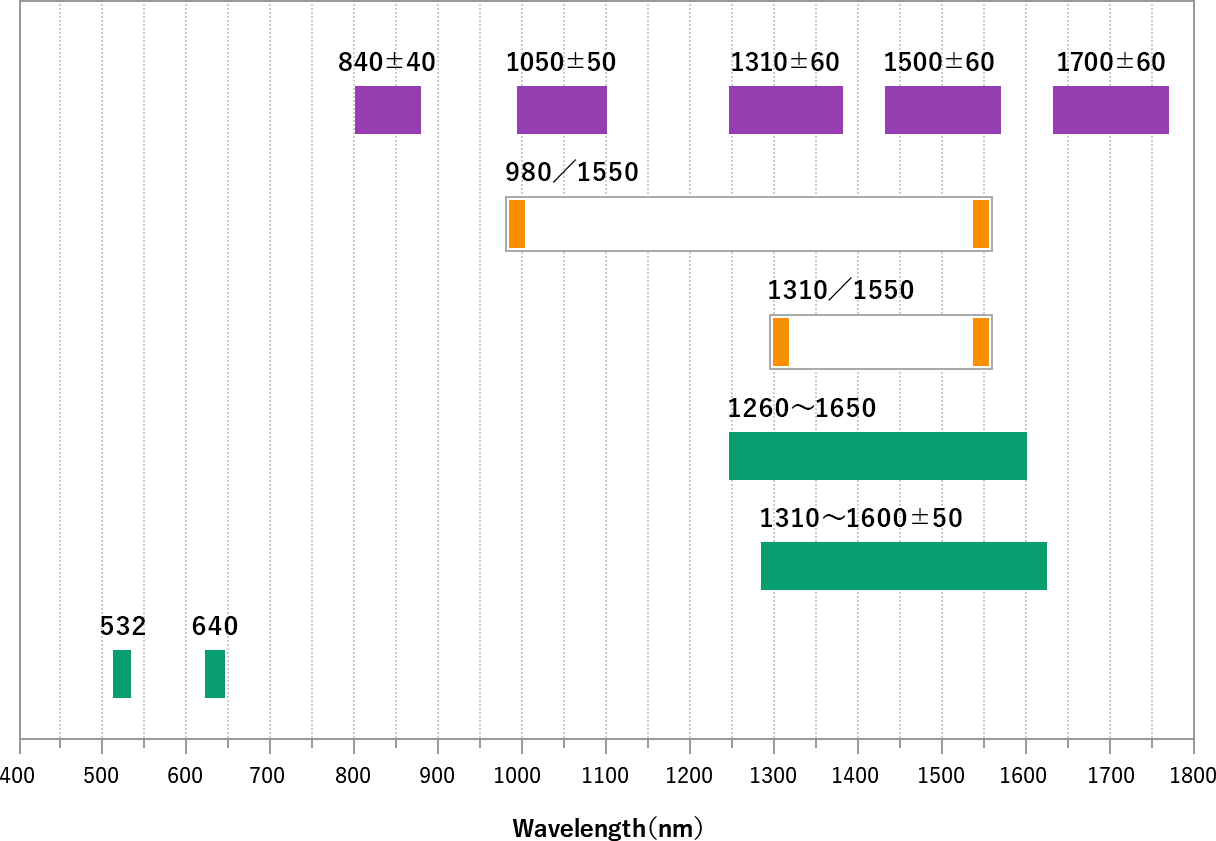 Standard products (example)
We can accept your order for trial and large-scale production of a product with wavelengths other than the following.
Trial production of optical fiber couplers
We can propose the necessary functionality according to your application. Trial production is available to meet the request for only wavelength or coupling ratio.
Please let us know your requirements:

Wavelength range used
Coupling ratio
Port length
Connector
Jacket diameter
Number of prototypes to be produced and lead time:

From one piece, negotiable.
TATSUTA designs and manufactures optical fiber assemblies that combine various optical fiber components by exploiting its proprietary optical fiber processing technology, including manufacturing of optical fiber couplers. We guarantee an optimized design based on the knowledge accumulated over many years, by combining the components and technologies of our company and partner companies, such as collimators, FBG, VOA, circulator, etc. If you want to reduce the cost of development, manufacturing of an assembly, or solve a problem in large-scale production, please feel free to contact us. We can assure you that we can provide the optimal solution based on the know-how accumulated over many years.
For inquiries about products