Medical Optical Fiber Probe

(Light Diffuser)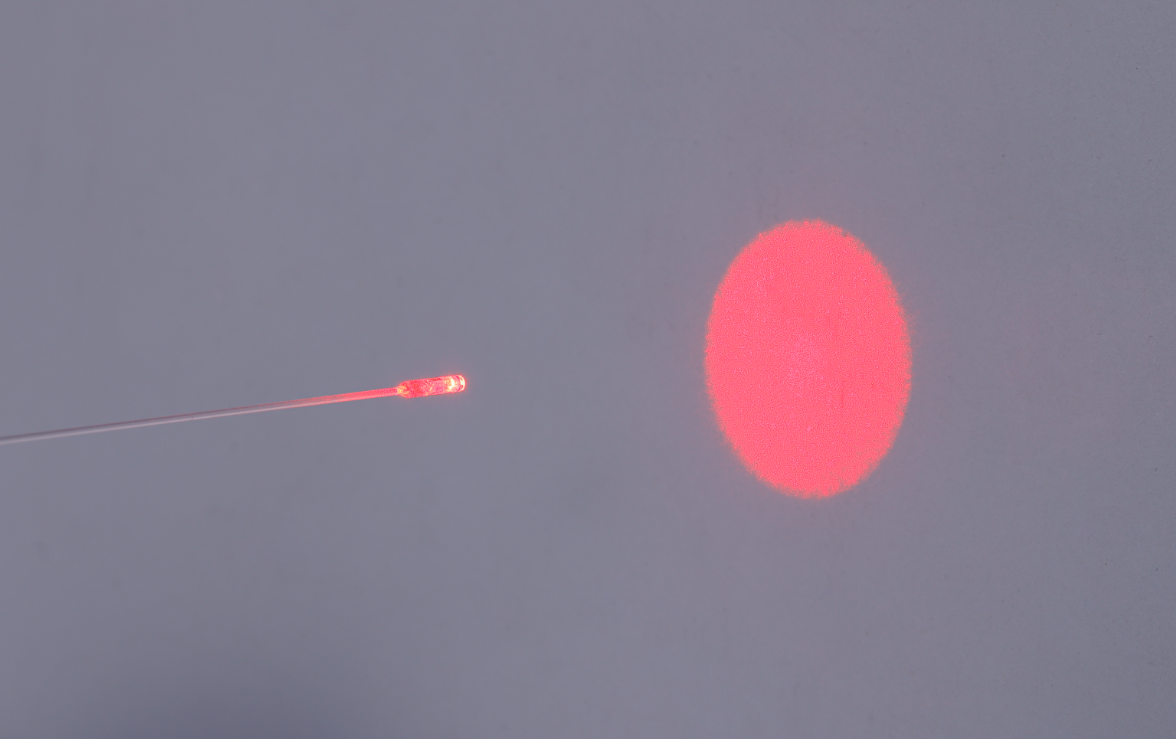 Utilized in Photodynamic Therapy cancer treatment, manufactured with optical fiber processing technology. In recent years, new cancer treatment methods using light irradiation such as PDT (Photodynamic Therapy) are becoming popular. As it places less burden on patients than traditional methods, over the world, PDT has become an advanced treatment method that is attracting attention. We apply optical fiber processing technology to manufacture Optical Fiber Probes (Light Diffusers) that emit PDT fiber laser light extremely uniformly and efficiently. Our product is actively being used in medical treatment in Japan. If you are a manufacturer of medical device and are considering Optical Fiber Probe, please contact us.
Probe Type
Product Appearance/Irradiation Image
Beam profile is frustum cone shape design
Beam diameter, distance to the irradiation target can be customized
Transmittance (light utilization efficiency) 80% or more [standard 70% or more]
Biocompatible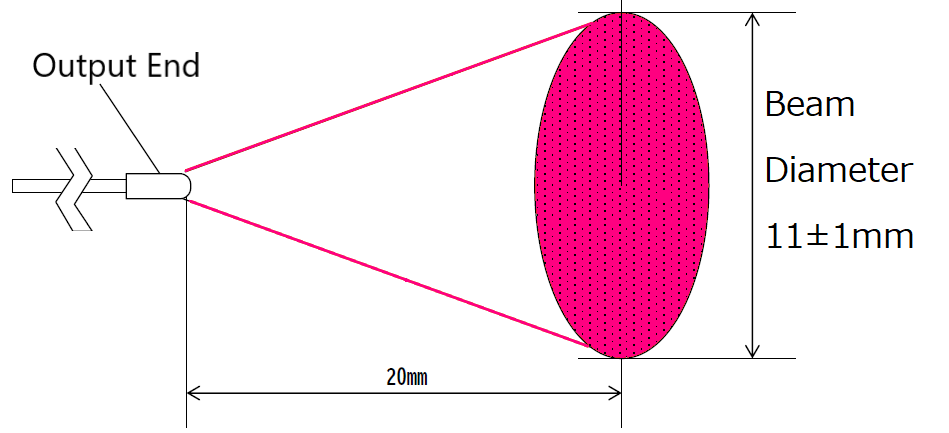 The beam profile (which indicates the intensity distribution of the laser light), is based on a frustum cone shape, resulting in a smooth profile, enabling extremely uniform and efficient frontal irradiation of the tumor tissue at the target site. In addition, we also plan to manufacture a probe that can emit a uniform diffused light from the side for target site that is in a curved path or in a narrow area.
Beam diameter design can be customized (change of lens ferrule) according to application
Irradiation angle
Beam shape/Outer diameter sizeThe beam profile is based on a frustum cone shape, and the profile is designed without significant sag, undulation, or unevenness.
Probe(light diffuser)'s connector can be customized to match the connection port of the laser device.
Designed to gives the user a good grip when connecting the probe (light diffuser) to the laser device (size, non-slip processing, etc.).
| Item | Specification |
| --- | --- |
| Fiber spec | Core diameter: Φ0.4mm, Coating diameter: Φ0.64mm, NA : 0.28 |
| Light Irradiation Length/Irradiation Direction | Beam diameter Φ11mm/forward direction (20mm from the output end to the irradiation target) |
| Irradiation shape | Beam profile is frustum cone shape |
| Transmittance | Transmittance (light utilization efficiency) 80% or more [standard 70%] |
| Passability | Passable inside endoscope |
| Biocompatibility | Proven track record in medical equipment |
| Tip's Outer Diameter | Φ1.5mm |
We are developing Side Emission Probe (Cylindrical Light Diffuser) and schedule to release in near future. Contact us for information and inquiry.
For inquiries about products